With the arrival of our first puppies, many families are excitedly making preparations for their fluffy friend! With so many things to think of, it is easy to feel like something is getting left off of the list. We have compiled a checklist of must-haves and to-dos that will make life easier when bringing home your new pup.
The Necessities
First things first, you need to purchase all of the basics that your puppy will require. Think about what you need: food to eat, a place to sleep and everything to keep you happy and healthy in between! All of our puppies will come with a sample of Purina Pro Plan (which is what we recommend and feed to our dogs), however you can make the switch if you would prefer. You need to select an age-appropriate diet for your puppy as they grow. A balanced diet is VERY important during the growing stages. As you transition to your food of choice, you will want to blend it slowly with Purina Pro Plan and wean them off of the food they are acclimated to. This prevents upset bellies! If you have any questions regarding your pup's diet, we recommend consulting with your vet.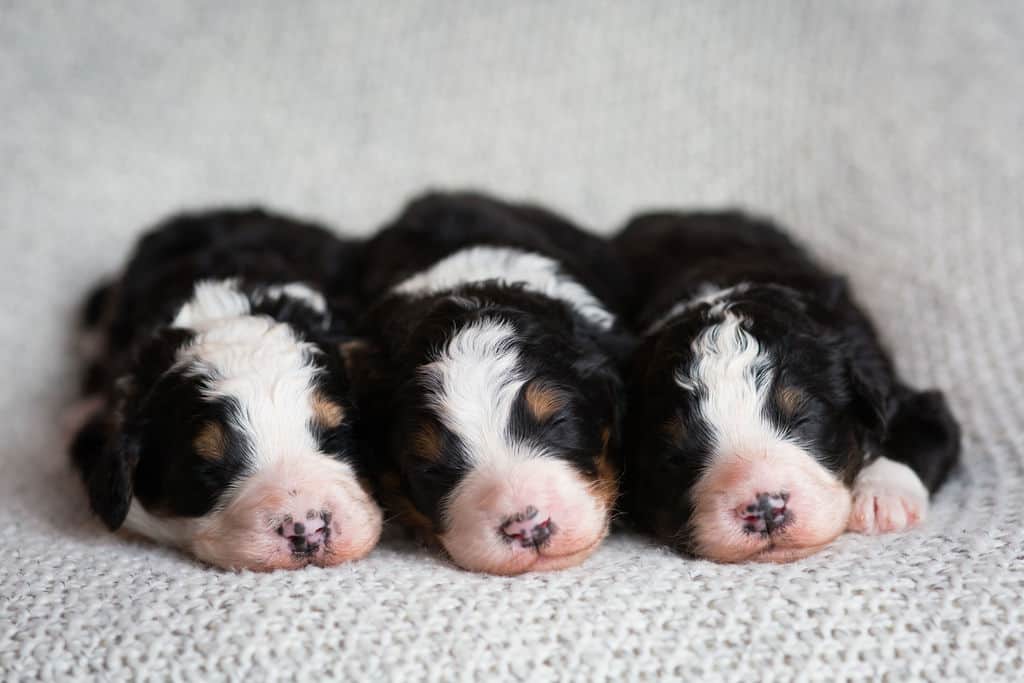 Once your puppy has a fully belly, he/she is going to want to take a nap! We wholeheartedly believe in the importance of crate training. Because of that, we begin the crate training process before your puppy leaves to join your family. To maintain their training, it is important that you invest in a crate for your puppy to call "home." We recommend the heavy-duty wire crates as they are very durable. You need to purchase a crate that fits your pup's size. To keep from having to purchase multiple crates as your puppy grows, you can purchase a large crate with a divider and adjust it to fit your pup. A crate that is too large will invite your puppy to potty in one corner. A crate that is too small will be uncomfortable for your new friend! You need a crate that is just right in size!
Other items you will need to purchase are food and water bowls, exercise pens or baby gates, a collar complete with an ID tag and leash, and any at-home grooming necessities.
Professional Services
Another important item on your puppy preparation checklist is to determine which puppy professionals you will use! Veterinarians are first that come to mind, but equally as important are dog trainers, dog groomers, and doggy day care or boarding facilities.
If you live nearby, we can happily provide you with references to professionals we know and trust. If you are starting out on your own, try consulting with your coworkers, family and friends. See who they use and trust. Always use certified and licensed individuals and don't be afraid to ask for client references. You will rely on these professionals to care for your pup throughout his or her life, it is important that you can trust them!
Toys and More!
This is the fun part about preparing for your new pup! Think about your puppy as a newborn child when buying toys. Avoid toys with small, moving parts that could easily become a choke hazard.
Your puppy will LOVE to chew! This habit may lead to frustration in the house, but you can curb it by picking up toys that your pup would prefer to chew on rather than your favorite pair of slippers. We love Kong toys as they are virtually indestructible and many of them have the ability to hide treats inside of them. This is a super fun game for your dog!
Invest in high-quality, interactive toys that will keep your puppy occupied throughout the day. Puzzles, toys with treats hidden inside, or chewing bones are all great ways to keep your dog entertained. Just like kiddos, anything can become a toy if it is within eye-sight of your new puppy. If you love it, be sure to store it out of sight so it doesn't become your pup's new favorite toy.
As you wait for your new arrival, stock up on all the necessities! If you have yet to commit to a puppy, be sure to check out our upcoming and available litters page to see if your new friend awaits you. We would love to help pair you with your lifelong pet!